Land Rover InControl® Apps™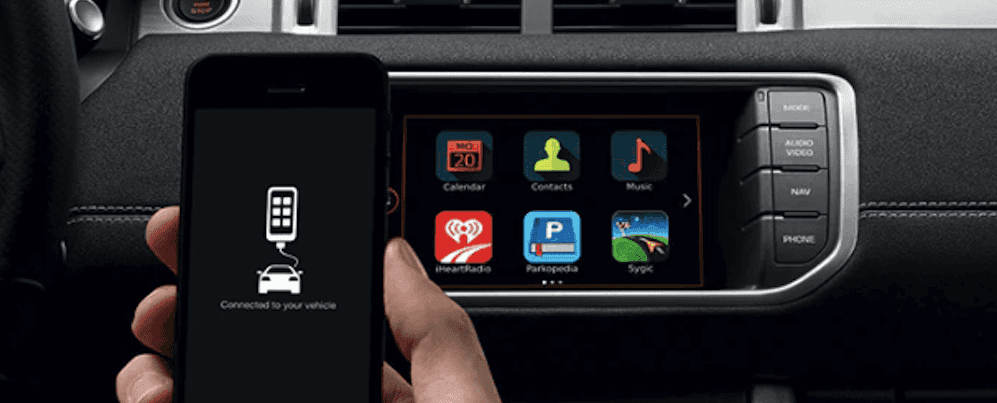 Land Rover InControl® Apps™ is a compatibility program for most Android™ and Apple iOS® smartphones, so you can use all your favorite apps seamless on your Land Rover InControl® touchscreen infotainment display on Dakota Dunes and Sioux City roads. Explore our guide to InControl Apps below, and contact us if you have any questions or want to schedule a test drive and experience Land Rover technology in person!
How Do I Set Up Land Rover InControl® Apps™?
Installing Land Rover InControl® Apps™
Find Land Rover InControl® Apps™ in the Apple App Store or Google Play depending on the smartphone you have.
Download, accept and install the app.
Find the Land Rover InControl® Apps™ icon on your smartphone screen to confirm the installation is complete.
Follow the Auto Quick Start Guide to complete the setup process.
To connect your smartphone to your vehicle with InControl® Apps™:
Step inside your vehicle and turn the car on (you don't have to actually start the engine, just the electronic systems.
Pair your smartphone to your vehicle's Bluetooth for phone call functionality and wireless audio streaming.
Using a media USB cord for your smartphone–NOT a charging-only cord–plug your phone into the specially designated InControl® Apps™ USB port.
On your iPhone, open the InControl App
On your Android, select 'Always Allow'.
With your smartphone remaining unlocked, select InControl Apps on your Land Rover touchscreen.
Select View to use apps without audio and select View and Listen to use apps with audio.
Each third-party app will be grayed out with a key symbol until an additional setup process is completed for each app:
Select one of the grayed out apps on your vehicle's touchscreen, read the instructions and press Start.
On your mobile device, approve the pop-up that appears.
On your vehicle touchscreen, press the home button.
On your mobile device, approve the second pop-up that appears.
Repeat for all third-party apps to unlock them on your Land Rover touchscreen.
What Apps Can I Use with Land Rover InControl® Apps™?
Get your news sources and entertainment with apps like Newsbeat, Rivet Radio, Rdio, Audiobooks, and Stitcher
Find points of interest in a new city or neighborhood with Cityseeker, Eventseeker, and Hotelseeker, and Parkopedia
Take conference calls and online meetings right from your car with MobileDay®
Effortlessly navigate through unfamiliar territory with GPS tracking apps like Sygic and Glympse
Track your journey and keep tabs on fuel usage with Mileage Tracker Pro
What is the Land Rover InControl® Remote™ App?
Land Rover InControl Remote means that even when you are not in your Land Rover using the infotainment screen, you can still interact with your vehicle remotely via your smartphone or Apple Watch®:
Control your Land Rover with operations like lock/unlock, remote engine start, and climate control to warm or cool the car before you get in.
The app can also track your vehicle remotely, provide maintenance alerts when it's time for service, and display your fuel level so you know when to leave time for a stop at the gas station.
Control the Roads with Land Rover Omaha
When you are ready to start using InControl® apps on your Lincoln drives, browse our inventory to find a new Land Rover for sale at Land Rover Omaha! You can even apply for financing online to get a head start towards your next technology-packed vehicle. Find out how Land Rover models measure up to the competition by comparing the Land Rover Discovery Sport vs. BMW X5, or compare the Land Rover Discovery vs. Discovery Sport.